Inferior alveolar nerve / Mandibular nerve
The inferior alveolar nerve transmits the sensitivity of the lower teeth, inner gingiva of the mandible, lower lip, and chin. Its injury can lead to anaesthesia of these structures, such as that typically experienced by patients for a limited amount of time in cases of a local anaesthetic injection made by the dentist in daily practice. Anaesthesia of the lower lip arising as a result of oral surgery/practice is generally poorly tolerated by patients.
The most frequent causes of nerve injuries include wisdom tooth extraction, dental implant placement, block anaesthesia, and contact of endodontic materials with the nerve following root canal therapy of a tooth.
Generally, the nerve is able to "self-heal" to some degree because its fibres grow within the bone canal after a lesion. In such cases, it is not necessary to intervene surgically and functional recovery occurs within 6-12 months, though, generally, incompletely.
Reconstructive microsurgery of the nerve is indicated in cases with the onset of chronic pain, annoying dysaesthesia (impaired sensation), or where no spontaneous recovery occurs within 6 months.
Surgery is performed intraorally by removing, temporarily, a bony window of the jaw to fix the nerve under microscope magnification. Sometimes, a portion of the alveolar nerve must be replaced with a tract of a substitute nerve (generally, the suralis nerve or the great auricular nerve).
A specific instrumental examination, the so-called trigeminal sensitivity test, is essential in determining the neurological damage and grading it. In the test, a neurologist administers a slight electrical signal to the anaesthetised region and records the inhibitory reflex of the masseter muscle (this part of the exam resembles an electromyography). The injured side will require a much higher electrical stimulus to register a reflex or will not have one at all.
CLASSIFICATION OF NERVE INJURIES

INTERVENTIONS FOR LOWER LIP ANAESTHESIA . The injured mental nerve is cut at the level of the mental foramen and rotated to the opposite side, where it is connected microsurgically to a minor branch of the opposite healthy mental nerve. Recovery of sensitivity usually begins 2-4 months after surgery
(a surgical technique devised by Dr. Paul Gennaro).
Course of the inferior alveolar nerve between the roots of a wisdom tooth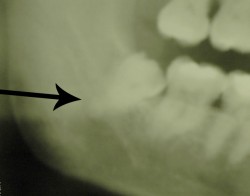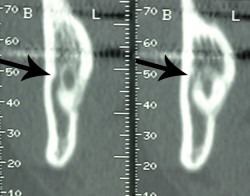 The spared inferior alveolar nerve crossing the alveolus at the end of surgery:
WARNING! SURGICAL IMAGES WILL BE SHOWN IF YOU CLICK HERE
Inferior alveolar nerve injury may occur in the execution of nerve-block anaesthesia. It is apparent how a needle can cross the course of the nerve.
CLINICAL CASE
WARNING! SURGICAL IMAGES WILL BE SHOWN IF YOU CLICK HERE

Clinical case